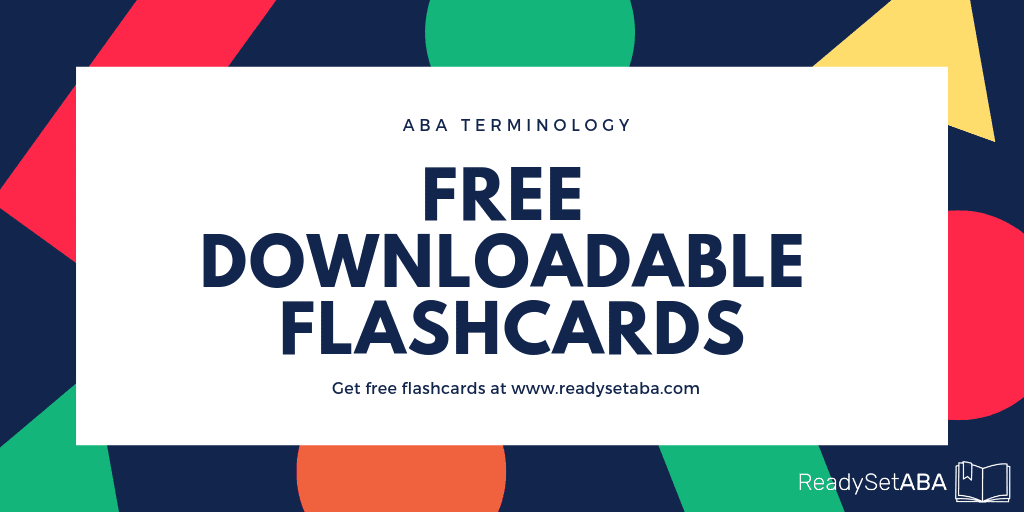 While studying for the BCBA exam, I found it extremely helpful to write my own flashcards. I thought to myself, "if only I had pre-made cards that had the term I needed to know, I could still get the practice of reading and writing my own definitions." So, here you go! I want to go over how to get the most out of these flashcards by considering fluency and terminology grouping.
Fluency
As you know, the BCBA exam is timed, so the faster you are able to identify the ABA terminology, the more likely you are to get the question correct. Moving quickly through the flashcards, and increasing your response time will increase your pace. After you write all of the terms and feel confident in their definitions, you should mix them up. Running through the cards mixed will give you a shorter latency, and build fluency!
Terminology Grouping
One benefit to these flashcards is that all of the terms are categorized by related concepts, specifically by Cooper chapters. Studying the terms grouped by chapter will allow your brain to make the connection between concepts. Also, writing down the definitions in this order (rather than alphabetical) will keep you organized as you continue on your studying journey.
I found it extremely helpful to conceptually group the terms I was studying. After you finish writing all of the cards, then you can mix them up for a bigger challenge. Remember, the test is not categorized by terminology or chapter. The test will randomize all concepts, so to get the most out of these flashcards make sure you mix up all concepts so your brain gets used to switching around!
Study Tip
One study tip I like to share: Instead of focusing on how the terms are different from one another, try to discover their relationship. I realized ABA terms are all related in a giant web. Yes, some terms are different from one another, but conceptually they have more relations. Once I realized this the second time studying, concepts began to stick and I was able to apply the terms fluently.
How to use
Print out the flashcards.

Use a paper cutter (or scissors) to cut the flashcards. Keep them grouped by page! I recommend cutting them out as you go to help stay organized.

Start at the beginning, which will start you on Cooper chapter 1.

After you complete the flashcards, run through them in order several times.

Once you feel comfortable with all of the concepts, mix and shuffle them to build fluency.

Carry the flashcards with you and run through the flashcards any chance you get!
I hope you find this free tool useful in your studies! I recommend pairing these flashcards with Cooper readings when finding the definitions. I also recommend utilizing these flashcards with our course and 30 or 60-day study plan. In this study plan, you are given the Cooper page numbers that are associated with each task list and a clear study guide to follow.
All of the terms you need to study for the exam are downloadable here.
Reach out if you have any questions!
-Katherine