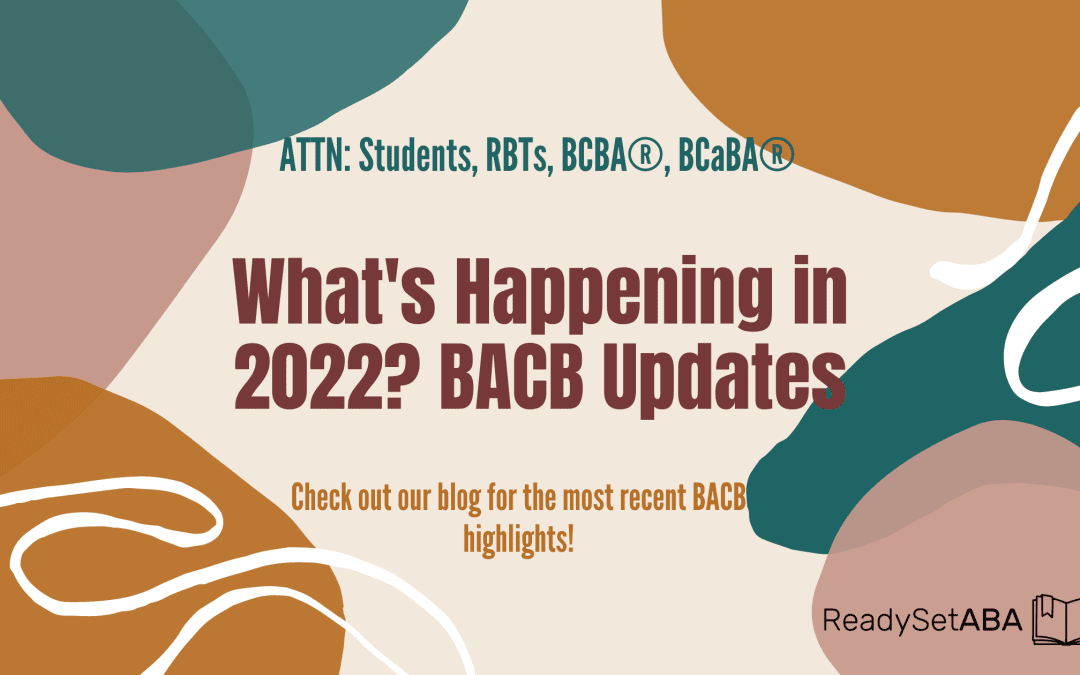 BCBA® and BCaBA® Updates
So, by now, we're sure that you've heard that BIG changes are coming from the BACB in 2022. We wanted to write a blog on what to expect as you pursue your BCBA certification with the upcoming changes. This blog will reference all of the many changes that are to come in our near future. Take a deep breath! Here we go!
New 5th edition task list:
The first big change coming in 2022 is that the content on the exam covers the 5th edition task list! Students applying for the exam prior to December 31st, 2021 will be applying under the fourth edition requirements. The next thing that is important to know is, students applying after the December 31st, 2021 deadline will be required to meet the 5th edition requirements. Our ReadySetABA 5th edition ebook is coming soon in 2021!
Education:
Beginning in 2022, there are a few educational paths that you can take to obtain a degree that will qualify you to become a Board Certified Behavior Analyst (BCBA). You can obtain a degree from a ABAI-Accredited program or a qualifying institution. All coursework must be verified by ABAI. Per the BACB, "a qualifying institution is an "institution within the U.S. that are listed in the Council for Higher Education Accreditation data OR institutions outside of the U.S. whose degrees meet certain standards."
Supervised Fieldwork:
Supervision of BCBA candidates must be completed by a qualified supervisor. A BCBA candidates fieldwork can be thought of similarly to how we think of Dr. Grey, Dr. Yang's, Dr. Karev's residences. Per the BACB, "the purpose of supervision is to improve and maintain the behavior-analytic, professional, and ethical repertoires of the trainee and facilitate the delivery of high-quality services to the trainee's clients." The BACB does not answer questions about what specifically may or may not qualify for supervisory experience, but does list some examples of what effective behavior-analytic supervision can include here. Candidates, also known as trainees, cannot begin accumulating their fieldwork hours until they have begun their educational experience listed above and obtained a qualified supervisor, and the duration of a trainee's fieldwork cannot exceed 5 continuous years.
Next, the fieldwork criteria will change in 2022. The supervised fieldwork hour requirement is 2000 hours, requires a minimum of 4 supervisor-trainee contacts per month, and the trainee must be supervised for 5% of their monthly hours. The concentrated fieldwork hour requirement is 1500 hours. A minimum of 6 supervisor-trainee contacts are required per month, and the trainee must be supervised for 10% of their monthly hours. In both fieldwork settings, there is a minimum requirement to accrue 20 hours per month and the cap per month of accrued hours is 130 hours. One observation by the qualified supervisor of the trainee with a client is required per month and must be for at least 15 minutes. For both the supervised fieldwork and the concentrated supervised fieldwork, at least 50% of the supervised hours must be individual- in other words, group supervision cannot exceed 50% Lastly, for both the supervised fieldwork and the concentrated supervised fieldwork, at least 60% of supervised field MUST be spent engaged in unrestricted activities. Please see the BACB for an example of how fieldwork types can be combined.
Faculty Appointment:
Another way of qualifying to sit for the BCBA board exam is to engage in faculty teaching. For this option, trainees must have a graduate degree from a qualifying institution and hold a full-time faculty position in behavior analysis for at least 3 years at a qualifying institution. that includes researching and teaching. This avenue also requires the supervised fieldwork listed above.
Postdoctoral Experience:
Lastly, if you have a doctoral degree from a qualifying institution that was conferred within the last 10 years, and at least 10 years of postdoctoral practical behavior analytical experience, have at least 10 years of full-time practice, and 500 hours of fieldwork experience, you too can qualify to apply for the BCBA certification.
Now what?
When you are ready to begin your study preparation, check out our study options (hint: we believe in studying throughout your fieldwork experience vs. cramming for the exam at the very end!). When you are ready to apply for the big exam, check out our task analysis to make your application process easy sailing!
Happy studying!
RSABA Team